Updated December 12, 2017
Access to Password Protected Posts & Pages
1. Password Protected Posts & Pages
2. How to Obtain & Use Your Password
3. Why We Charge & What You Receive
4. Please Read Important Notices / Caveats
Quickly Purchase Your Password Here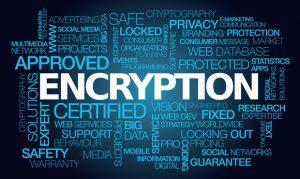 1. Password Protected Posts & Pages
As of mid-2016, a paid password is required to access the majority of our Florida Bar Exam's posts and pages. You can visit our Categories section to see a few examples of some of our password protected areas. The current website access fee is $50 $37 (see below Order Area). Passwords expire on March 01, 2018.
---
2. How to Obtain & Use Your Password
The following three steps should help you understand how to both obtain and use your password. Once you get the feel of our website, you should find that your password is quite easy to use and allows you access to a plethora of materials and information.
Step 1: First, you simply need to purchase your password via PayPal, credit card, or telephone.
---
Step 2: Second, just use our Contact Form to request issuance of your personal password. We will respond to your request as quickly as possible. Please be sure to check your SPAM file. We will be contacting you from contact @ aplusebooks.com.
---
Step 3: Finally, once you have received your assigned password, simply enter it into the "password" area of any protected post or page. See the below examples of what a Password Protected Page looks like and where to enter your password. Current passwords remain valid until March 01, 2018.
Example 1: This is What A Password Protected Page Looks Like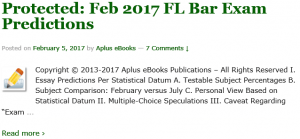 Example 2: This is Where You Enter Your Password
---
3. Why We Charge and What You Receive
A. Initial Basis: We were not necessarily thrilled about the arduous decision to begin charging for website access. However, given the number of applicants that we have freely assisted since January 2013 and the amount of "free material" that we have given away to a multitude of seemingly unappreciative applicants and law school professors, we really had no choice but to begin charging for website access.
We are not a charity-based entity. There is minimal information on our website that we, ourselves, received for free! In fact, nearly every article you read on our website cost us between $50 to $350 to research, write, prepare and post. We focus on quality, not quantity! We do our utmost to provide you with solid material – no fluff and puff drama.
B. Advertisement Free: As you might notice, our website is totally free of advertisements. We do not get paid for Google AdWords, Google AdSense, or by any other third-party affiliate. We can easily make some money with advertisements though. In so doing, we can provide you with a nicely cluttered, difficult to read, website viewing experience.
C. Theft of our Material: Much to our surprise and dismay, we learned the hard way that bar exam applicants and law school students are not beyond "stealing" our website information, materials, and/or articles! Appalling! It is because of people like that, that we have to keep raising our website fees!
D. What you Receive: With your password purchase, you will receive direct access to our Florida Bar Exam's protected posts and pages consisting of exam materials, information, and resources. This includes access to our bar exam statistical datum and raw scores, essay charts and graphs, sample multiple-choice questions, PDF downloads, substantive law notes and nutshells, encouraging articles, videos and podcasts, flowcharts, and more. You can visit our Categories section to see an example of some of our password protected posts and pages. Please understand that access does not entitle you to download our material onto your own electronic device to share with others! Access is just that – access, not possessory rights!
---
4. Important Notices
Be sure to read our "Important Notices" as it relates to password purchases.
---


Website Password Protected Access

If you would like direct access to our Florida Bar Exam's protected posts and pages, the current cost is $50 $37. Please click on the below "Buy Now" or "Add to Cart" button to purchase your password. You will be redirected to PayPal; however, you do not need a PayPal account to make your purchase. All major credit cards are accepted. Current passwords expire on March 01, 2018.
After you have made your purchase, please be sure to Contact Us and we will email your password to you as quickly as possible.
Thank you kindly for your purchase and for you interest in Aplus eBooks Publications. Best regards.
Click on the "Buy Now" button to Purchase Your Password.
If the above PayPal "Buy Now" link does not work, try using our backup links page instead. If necessary, we would greatly appreciate it if you would contact us to let us know that the link is not working.
Thank You & Best Regards
Aplus eBooks Publications
Post Office Box 618757
Orlando, FL 32861
* IMPORTANT NOTICES *
1. How to Access Your Password After Your Purchase
Once you have made your purchase, please use our Contact Page to request your personal password. We will email your password following your contact request and official receipt of your payment from PayPal. As stated above and below, current passwords are valid until March 01, 2018. Again, thank you for your purchase.
2. Copyright Notice
All information and materials contained on this website remain the copyrighted intellectual property of Aplus eBooks Publications. Downloading any of our posts and/or pages is strictly prohibited, absent a specific download link provided by us. If you absolutely need a PDF of one of our posts or pages, simply ask! Do not infringe upon our intellectual property rights, please.
3. United States, Canada, Puerto Rico
Access to the content of the Florida Bar Exam information and materials on this website are intended for, and available to, residents of the United States and Canada.
4. Notice of Cookies and Website Usage Violation
For your protection, and for ours also, we have heightened our security measures wherein we collect cookies and IP addresses. This enables us to know who is accessing our website. Sharing your password with another person or entity, or providing access to our protected posts and/or pages with another person or entity constitutes a breach of use of our website policies which will automatically cause your IP address to be blocked from accessing our website.
5. Forgot Your Password?
If you forgot your password, please contact our support team (support @ aplusebooks.com). Be sure to tell them (us) the amount, date, and PayPal receipt number of your purchase. They (we) will do our best to promptly assist you.
6. Caveats! Please Read!
a. Attempted access to our back-end files or to our admin area constitutes a breach of use of our website policies. Such attempted accessing will automatically invoke security measures which will block and blacklist your IP address (addresses).
b. Website Access Fees are intended solely for temporary access to our password protected posts and pages. We do not collect a salary from your website access fee payment — not yet, anyway! Rather, we use the funds to: (1) pay for our continuing website fees and costs, (2) provide our readers with a larger database of materials and information, and (3) allow for a secure, non-advertisement based, website experience.
c. Aplus eBooks reserves the right to "shut-down" its website during periods of perceived heightened DNS and/or DDoS threats and/or other attempted illicit attacks. In such cases, the website shall be temporarily taken offline. There shall be no website fee reimbursement.
Posts of Interests
1. About Us
2. Disclaimer
3. FAQ Page
4. Preliminary Questions Page
5. 2018 FL Bar Exam Workbooks
Copyright © 2013-2017 Aplus eBooks Publications – All Rights Reserved
Permalink: https://www.aplusebooks.com/password-protected-pages/
Updated Dec. 10, 2017

{13}