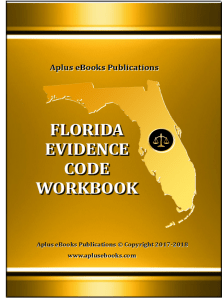 Florida Bar Exam Evidence eBook (Bar Prep)
Now available for purchase — Florida Evidence Workbook in eBook format.
Start Early and Beat the Competition.
BUY NOW

About this eBook (PDF Version)
If you are taking the Florida Bar Exam or a Florida based law school exam, then our Florida Workbook eBooks are for you.
With this particular eBook, you can easily learn the black letter laws surrounding the Florida Evidence Code. This includes the highly tested area of "Hearsay". This Workbook consists of 58 multi-faceted fill-in-the-blank questions and answers. It also includes a copy of the pertinent portions of the officially released Florida Evidence Code, which is where the questions and answers were derived.
The Florida Evidence Code eBook is an excellent study tool for Florida Bar Exam applicants, law school students, paralegals, and any one who is sincerely interested in learning the black letter laws surrounding Florida's Rules of Evidence. (You can click on the top left picture to see an example of this eBook in flip page format.)
To purchase this eBook, simply click on the above "Buy Now" button. Upon payment, you will be emailed a link to your own personal download page.
If you would prefer to receive this eBook in EPUB format or in Spiral Bound format, please let us know. Just submit your request via our Contact Form. Thank You.
Also Available: Florida Rules of Civil Procedure Workbook (eBook) 
Copyright © 2013-2017 Aplus eBooks Publications – All Rights Reserved
Permalink: https://www.aplusebooks.com/fl-evidence-bar-prep-ebook/
Aplus eBooks Publications
Post Office Box 618757
Orlando, FL 32861
---
{22}