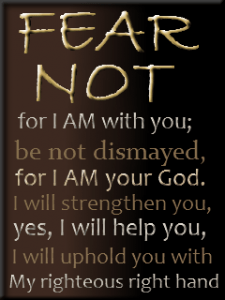 "Fear not, for I am with you; be not dismayed, for I am your God. I will strengthen you, yes, I will help you, I will uphold you with My righteous right hand." Isaiah 41:10
It's easy to praise God when times are good. It's easy to believe that God loves you when everything in your life seems to be going as planned. It's not quite as easy when things in your life seem to be spiraling out of control.
Perhaps you are facing a job crisis, or severe health issues, or relationship problems, or financial turmoil, or the loss of a loved one. Perhaps you are facing a myriad of adverse issues, problems, and turmoil. What do you do during these times? Should you still praise the LORD?
The answer is absolutely yes! "But why?," you might ask. In fact, you might even ask, "why is God putting me through all of this?" Well, consider for a moment that maybe it's not God who is putting you through it; rather, it is God who is getting you through it.
Consider, for instance, the story of king Jehoshaphat. When he was surrounded and outnumbered by his enemies, the Spirit of the LORD came upon Jahaziel and said to the king: "Don't be afraid nor dismayed because of this great multitude, for the battle is not yours, but God's. You will not need to fight in this battle. Position yourselves, stand still and see the salvation of the LORD, who is with you. Don't fear or be dismayed. Tomorrow, go out against them for the LORD is with you" (paraphrased 2 Chronicles 20:14–18).
What king Jehoshaphat did next is exactly what we should do during our times of turmoil, fear, and distress. You see, king Jehoshaphat did not put his army of elite military troops on the front-line to fight the opposition. Instead, he put his worshipers on the front-line to fight the opposition.
The worshipers sang and praised God. They sang of God's beauty and His holiness. And "when they began to sing and to praise, the LORD set ambushments against the [opposition]…." In other words, when the worshipers began singing and praising, it was then that the LORD destroyed king Jehoshaphat's enemies. (2 Chronicles 20:21-23) Wow!
Apparently, it's not just our the trials that make us stronger. It is our response to those trials that can open the flood-gates of heaven to destroy the opposition in our lives. Even in our darkest hour, even during our toughest times, let us "fear not"! Let us remember to praise the LORD for His loving kindness and mercy. In so doing, the LORD will strengthen, uphold, and help us!
Scripture Reference:
2 Chronicles 20
© Copyright Aplus eBooks Publications – All Rights Reserved
Permalink: https://www.aplusebooks.com/fear-not/  

Save
{103}