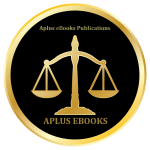 Aplus eBooks Publications Copyright Notice
No part of this website or its contents may be reproduced, copied, transmitted, modified, adapted, or downloaded onto a private or public server without the prior written consent of the site owner.  Such activity is strictly prohibited, and is deemed a violation of our website policies. It is also possible that such activity is a violation of both U.S. and International copyright laws—it is essentially deemed, theft!
You may share the contents of this website by the following means:
1. Using the share icons located at the bottom of each post or page;
2. Providing a back-link or the URL of our content you wish to disseminate; and/or
3. You may quote short extracts from the website and its contents on the condition that you give credit to Aplus eBooks Publications https://www.aplusebooks.com.
For any other mode of sharing, please contact the site owner. Commercial use and/or distribution of any of the contents on this website is strictly prohibited absent the express and prior written consent of the site owner. Consent shall not infer the right to sell or monetarily increase gains from the shared contents and/or information.
Aplus eBooks Publications
Post Office Box 618757
Orlando, FL 32861
© Copyright 2013-2018 Aplus eBooks Publications – All Rights Reserved